Deadline for applications: 1 May 2015
Notifications: 15 May 2015
Becoming a student volunteer for C&T2015 provides a unique opportunity to meet other students and well-known international researchers. You will see the latest in C&T research and development and have fun while learning about running an international conference. Many students mention that the connections that they made while being a student volunteer are amongst the greatest benefits.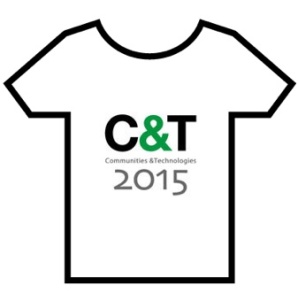 As a student volunteer, you agree to:
Work 10-20 hours during the conference (27 – 30 June 2015);
Support the setting up of presentations and workshops;
Attend an orientation session on 26 June 2015 in the afternoon.
In return, you will receive free registration to the C&T2015 conference (including meals and proceedings); Please be aware that travel expenses to and from the conference, as well as accommodation are not covered.
We are looking for motivated and reliable Student Volunteers who are enthusiastic about supporting the conference in running smoothly and effectively. To qualify as a SV, you must be a Master's or PhD student enrolled for the 2014/2015 or 2015/2016 academic year. No previous experience is required. Volunteers will need good fluency in English.
Interested in becoming a Student Volunteer? Email us at volunteers@comtech.community including the following:
Your contact details (email, phone number, university);
Contact details for one academic referee (email, phone number, university);
A 300 word (maximum) description of your current research project;
A CV; and
The reasons why you would like to become a Student Volunteer for C&T 2015 (300 words maximum).
Laura Maye, C&T2015 Student Volunteers Chair